FME® Server
FME Server is a scalable spatial ETL platform that offers flexible spatial data distribution and loading services to help organizations quickly meet diverse data access requirements.
Web-based spatial data access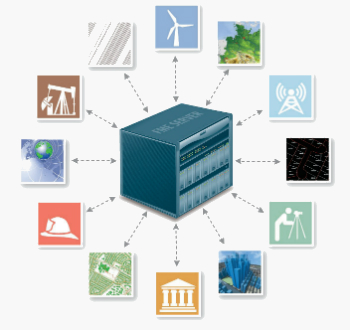 Deploy an online spatial data download service with FME Server. Through a configurable web interface, users select the dataset and layer for the area they're interested in, and then choose the output format or coordinate system they want. FME Server then automatically converts the data on the fly and sends the user an email with a link to the resulting dataset.
Using FME Server, you can create spatial data streaming services to automatically deliver the latest information to users through popular web applications like Google™ Earth/Maps, Microsoft Virtual Earth™, OpenLayers and others. Pre-built web services for KML Network Link, OGC® WFS and OGC WMS are included for quick deployment to users in the formats they require.
Scalable data consolidation
FME Server is designed to support large scale data migration and replication requirements. You can integrate and load large volumes of disparate data into spatial databases or replicate and migrate data between different databases, as well as perform database updates.
Online quality assurance
With FME Server, you can save time and improve data quality by creating an online data upload and validation service. Once data contributors click to upload their dataset, FME Server can perform geometric and attribute quality checks on the data before it's published to your centralized spatial database. Data that meets your validation rules can then be dynamically restructured and converted by FME Server into the required format and data model and then loaded into your spatial database. If errors are uncovered, you can use FME Server to automatically fix these issues or highlight the data problems for the data contributor to fix.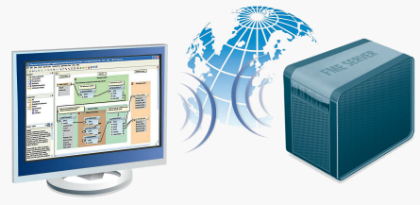 Server-based spatial data conversion
FME Server provides a scalable, self-service solution for sharing the power of FME's data conversion capabilities broadly across your organization, while still ensuring that your team maintains control over the spatial ETL process. With FME Server, CAD, GIS and other professionals throughout your organization can convert data themselves by accessing and running workspaces created using FME Workbench right over the web.